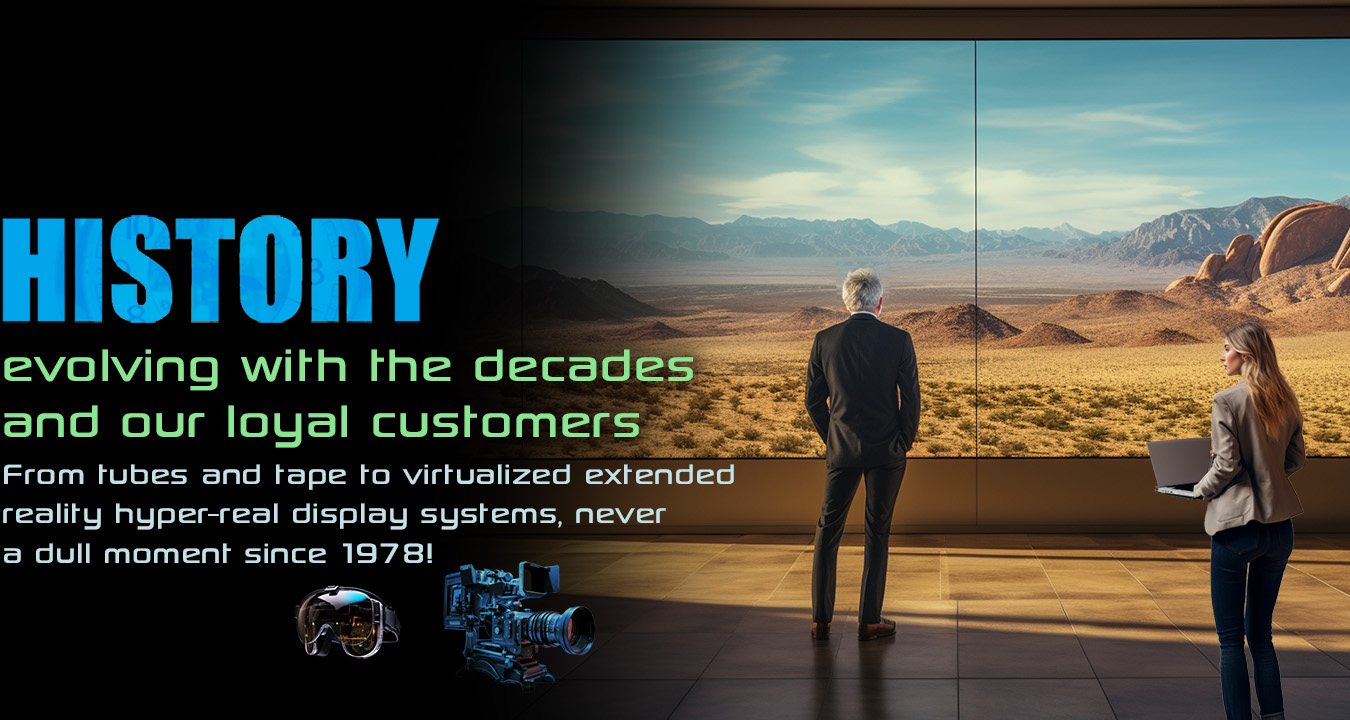 A brief history of EAR
From vacuum tubes to virtual digital production environments, EAR has evolved through 5 decades. How did we become among to longest lived and most progressive broadcast technology companies in North America?
THE BEGINNING
The VHS tape was barely a year old in 1977, the first Apple Computers were taking shape in Steven Wozniak's garage and if you recorded video or audio professionally, 2″ wide open reel tape was state of the art. A small company called EAR Sound Consultants opened up their store for Phoenix area musicians to buy the best the industry had to offer for recording and sound systems. As owners of EAR (pronounced "E-A-R") Mike King and Ed Vogt were considered to be on the cutting edge of the recording world. A wave of new affordable products were appearing by companies like Tascam, Otari, and Tangent Systems. Selling recording equipment to musicians was their first love and with technology offering a better and less expensive way to be creative, EAR thrived. "EAR Sound Consultants" soon became "EAR Professional Audio"
THE 1980's
Early in the 1980's audio and video equipment was evolving at a rapid rate. During these times EAR provided professional audio products for music recording, public address, broadcast and industrial applications. The well known customers included Paul McCartney, ABC, Playboy Club International, Robert Altman, Earl Scruggs, the Steve Miller Band and (with great appreciation) many others. And as a young developing company EAR survived the Economic Recession of the early 1980s with out any outside investment or resource.
Then in the fall of 1983, EAR moved into their current headquarters at 27th street and East McDowell Road in Phoenix. This location has served as a "home base" to the business and has provided prosperous years of business. Barely settled into the new facility Ear caught their second wave. In 1984 Yamaha, JBL, Tascam and Otari took the audio production world by storm with new products that allowed the industry to take a giant step forward in quality without breaking the bank. This was the beginning of the last generation in analog audio recording products. EAR was poised to deliver these cutting edge products to our customers through out the southwest. Just as the audio world was dramatically down sizing with inexpensive but very powerful new mass produced products, the video editing world was talking center stage.
With Video's first widely available nonlinear editing products, it became a strategic focus at EAR; a way to differentiate. EAR invested heavily in ramping up both their audio and video nonlinear technology. By the end of the 1980's EAR had fully encompassed video into their product offerings. In August of 1987 EAR Professional Audio changed it's name to EAR Professional Audio/Video. And around this time a start up company based in Tewksburg, Massechusetts was gaining attention and turning heads with their nonlinear video-editing product – the Avid Media Composer. Like EAR's aggressive move into nonlinear audio, EAR became the Southwest's first Avid reseller and to this day remain Avid's oldest reseller.
By 1989, EAR started delivering computer based editing products by Dyaxis and Digidesign. Some were working with Apple Computers(tm) and some controlling large audio consoles, quite a marvel for their day – but simple by today's standards. It was still very exciting to think that you could move between edits with almost instantaneous commands. This space age user interface boasted a crazy new feature called an "undo" button. Once again, simple by today's standards, but revolutionary at the time; a perfect prelude for things to come.
THE 1990's
Historically EAR has been successful in not just delivering systems, but also delivering solutions. During the 1990's EAR evolved into a company that sold both traditional products and newer computer based systems.
Typical of dramatic changes in high technology products, some people adopted early. While the subjective quality of the new hard disk based editors left some hold outs, many were quick to save money and benefit from the much quicker, new "non-linear" editing workstations. It would be a few more years before hard disk based editing was "broadcast quality"
Just when the nonlinear world was taking its first step, the tape world signaled it was not going to give up without a fight. In 1991 a fledging start up company, Alesis Corporation, introduced another juggernaut to the production world – A digital audio tape machine based on a VHS video cassette transport. Unlike its predecessors, the "ADAT" had 8 audio tracks and a price that left the remaining analog tape manufactures dazed and stunned. EAR again thrived nationally providing complete packages of ADAT based digital recording systems including audio mixing consoles, processing and cabling.
It was around this time that EAR also became the first Apple, Avid and Digidesign professional audio reseller in the Southwest and the new "Pro Tools" was also a huge success. At only $6,000 it was a bargain! Professional Ampex, MCI or Otari tape decks were $4,000-$25,000 alone. The new price point and 16bit resolution made it an instant hit with smaller production companies and studios. The workflow of the day still required your edited project to be finished back to tape (ie: "layback"). However, the cost savings of buying one tape deck compared to multiple decks more than paid for the cost of the computer and software.
In 1993 Avid, the already successful manufacturer of $100,000 editing systems announced the first "affordable" editing solution Media Suite Pro. EAR, the first Avid reseller in the Southwest, flourished and the new "MSP" was a huge success. At only $30,000 it was a bargain! Professional Sony tape decks were $15,000-$25,000 alone. The new price point and "AVR25″ resolution made it an instant hit with smaller production companies and schools.
The Mid 1990's were filled with gains and also losses. The industry was quickly changing and the future seemed very puzzling. It would be unrealistic to tell this story with including a few dips and disillusions along the way. The market was forcing a shift in the industry landscape. With the success of the ADAT and the emergence of mass produced products, everything was getting inexpensive, very quickly. Artists recording records that had demanded hundreds of thousands of dollars worth of production gear with an engineer just a few years prior, were now sing inexpensive portable gear at home. It didn't take long to figure that if the trend of "get more for a lot less" continued, everyone would own a personal home recording studio for $300 and the expertise and years of investment by EAR and its professional customers would be soon ready for the glue factory. The professional audio recording market had begun migrating into personal "projects studios" and outside of the major recording markets everyone was going to have to evolve or get out of the business. And evolve EAR did.
Turn Of The Century – THE 2000s 
Just as quickly as revolutionary products like the Alesis ADAT took hold of the professional audio industry, in a flash, they were gone. By 2001,  Alesis's business suffered as market trends changed, and on April 27 of that year, Alesis filed for Chapter 11 bankruptcy. It would soon become common for the disruptors of the industry to have their day (however brief) an be quickly replaced by "the next big thing". These trends spanned more than just products as streaming and computer based software products began to emerge. Yesterday's vintage tube processors were becoming today's software plug-in.
The mechanical tape based products of the 1980's and 1990's were fading fast as computer based recording and editing systems were able to record with increasing fidelity and functionality. To put it simply, these new hard disk based products made editing simpler and faster with much greater flexibility and many more features. The buzz was all about "Non-linear editing", hardly a term we use today now that the age of tape has passed.
Our industry was now firmly based in the computer age. EAR's service department, for many decades busy with cleaning, lubricating and adjusting 400 pound tape machines became a digital hub for computer based system configurations. With manufacturers like Avid, DigiDesign, many editors looking to start their own businesses. They quickly learned 100,000 of dollars of tape based audio and video equipment could be replaced with a computer based workstation system at a fraction of the cost. The days of the "big production studio" were coming to an end as smaller edit facilities could compete with cost effective hard disk based editing systems.
(more about the 2000's soon!)